PRESS
Sino-Dental® 2021 Booth Reservation Notice
Dear Exhibitors,
Welcome to the 26th China International Dental Exhibition & Scientific Conference (Sino-Dental® 2021).
Exhibition Date: Jun 9-12, 2021
Venue: China National Convention Center (CNCC), Beijing
Website: www.sinodent.com.cn.cn/en
For exhibitor services, please contact the organizing committee:
Ms. Carol KANG (Chief Coordinator), Ms. Taylor XIN (Pavilion service), Ms. Ying MA (Exhibitor service)
Email: info@sinodent.com.cn / sino-dental@qq.com
Tel: +86-10-88393917/3883/3850
Fax: +86-10-88393924
The Booth application sysytem is opening now, please read the reservation notice carefully, download the application form below and fill out with printed letter, then send back to info@sinodent.com.cn or sino-dental@qq.com. Please download the application documents as follows:
Sino-Dental® 2021 Booth Reservation Notice
Sino-Dental® 2021 Booth Application Form
Sino-Dental® 2021 Floor Plan:
Booking Schedules
Please submit the booth application according to the following 3 phases based on the different number of booths applied.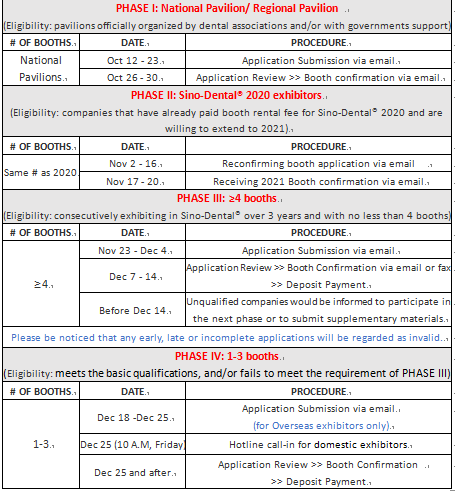 Sino-Dental® Organizing Committee